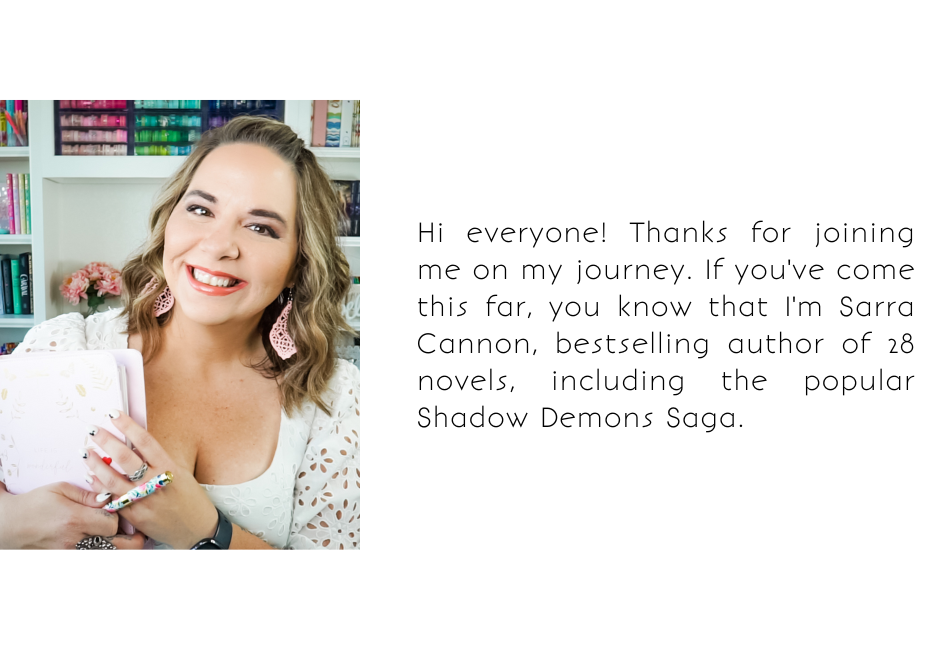 ---
I began my self-publishing career in 2010 and have sold over three-quarters of a million book. I write mostly magical, contemporary fantasy novels with both teen and college-aged characters (and lots of twists you'll never see coming). The exception is my Fairhope series, my only new adult contemporary romance series. I pull a lot of my inspiration for most of my books from my own love of Tarot, crystals, manifestation and all things witchy. Needless to say, I love Halloween!
I grew up in the small town of Hawkinsville, Georgia in a log house that my dad built out in the middle of over 10 acres of dense woods. We didn't have any air conditioning, and in the heat of summer in Georgia, it was often cooler to be in the woods than in the house. I have no doubt growing up here and roaming the forest as a child is what caused me to have such a vivid imagination.
I dabbled in a couple of careers that, in the end, didn't fit the vision I had for myself; it wasn't until I decided to follow a life-long dream of writing that I truly found where I belonged in the world. Suddenly, I was transported back to those days when I was allowed to make up entire worlds in the woods behind my house. Deciding to become a writer at thirty years old was like finding myself after being lost for so many years. I never looked back.
It took me years to learn how to actually write a novel, but all that work was worth it. Now, I indulge in my passion for planner supplies, Post-It notes, and stories as I plot each novel and immerse myself in the worlds I've created. Here's a quick behind-the-scenes peek at one of my plotting walls! If you've not read any of my books and are interested, you can find tons of information on my Sarra Cannon website here.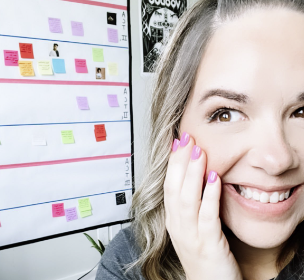 Interesting Facts About Me
I used to want to be an opera singer. I even have a Master's Degree in Vocal Performance and have studied with both a baritone and a soprano from the Metropolitan Opera Company.
I am obsessed with Hello Kitty (and have been since I was a little girl). I have a collection of Hello Kitty figurines that decorate my office, and I'm almost always wearing at least one Hello Kitty item when I go out. Also, my very first ever notebook was a Hello Kitty diary with a lock and key when I was 7.
I grew up in a small town in Georgia called Hawkinsville, where I lived in a log cabin in the middle of the woods that my father built. We had no A.C. in the house, so I spent most of my time playing outside. There is no doubt in mind growing up like this helped me to have a vivid imagination!
I am an avid gamer girl. I even met my husband, George, inside an MMORPG called Everquest II. <3 To this day, one of our favorite things to do together is play games online or watch anime. Our favorite anime are RWBY, Attack on Titan, and Sword Art Online, just to name a few.
Almost every one of my books ends on a major twist or a cliffhanger. I know some people hate cliffhangers, but it's one of my favorite things in TV and books. I can't resist a good twist at the end!
Last year, our little family settled in the Dallas-Fort Worth area in our dream house. Watching the sunset from my backyard is one of my favorite things in the world!
Something else I hope you know about me by now is that I'm passionate about helping writers like you create and achieve your dream life. As a result, Heart Breathings was born. Since 2018, I've developed two courses, Publish & Thrive and HB90 Bootcamp, in hopes to give back to the community that had been supporting me for almost a decade.
If there's ever any way I can support you with a specific video topic, please don't hesitate to reach out!
My goal is to create quality content for years to come and I hope you'll continue joining me!