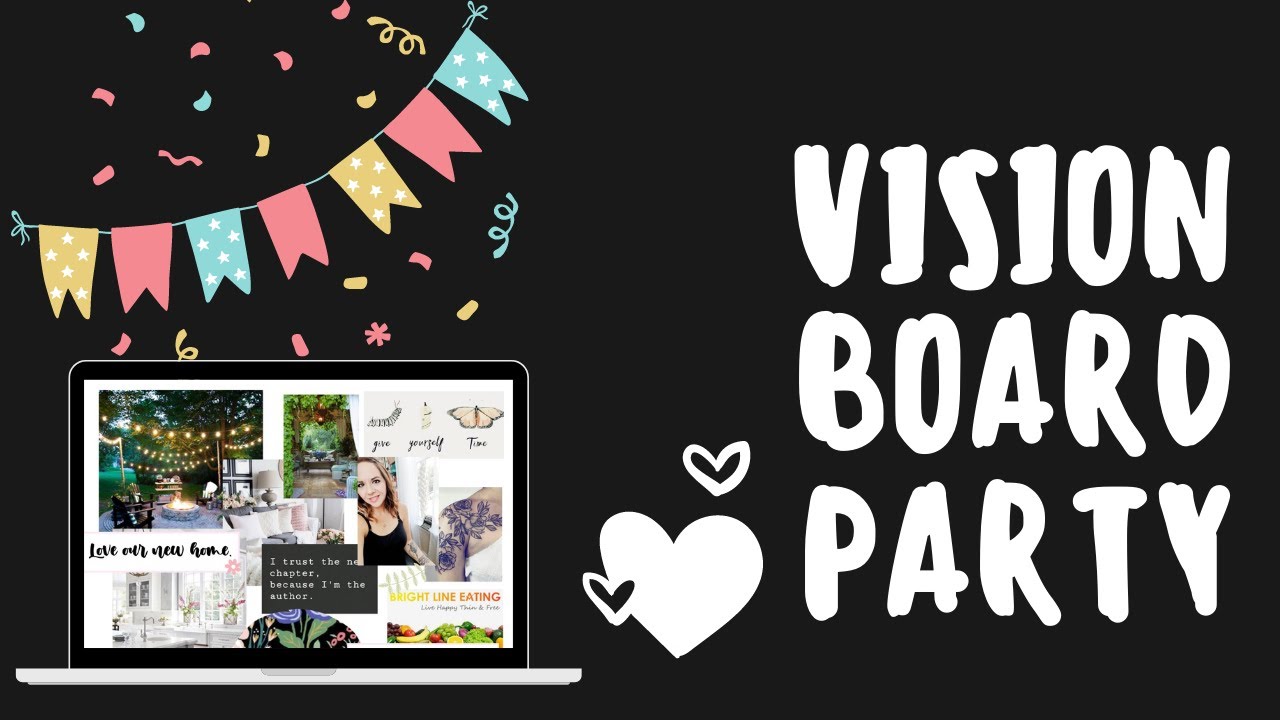 New Year's Eve Vision Board Party! (with Tips on Creating Your Own Vision Board)
December 31, 2020 by Sarra Cannon
Join me for a LIVE vision board party on New Year's Eve!!! I can't wait!
I'll be walking you through some tips and ideas for how to create a powerful vision board to help you focus on your dream life in 2021, and then we'll be making our vision boards while we chat about our goals for the new year.
You can watch the LIVE video here! I can't wait to hang out with you! See you there! (It's happening today at 3PM Est, but don't worry if you can't make it live! The replay will still be there for you to watch anytime.)
What is a vision board?
A vision board is a visual representation of the life you want, a place you can see the dreams and goals you want to achieve. It's a great tool for motivation and a visual reminder of your WHY, the reason you are going after your ideal life!
It can be words on a wall, photos and clippings from magazines or the internet put together on a bulletin board, an image you painted, or a digital board created in Pinterest or Canva – the variations are endless!
How often do you make a vision board?
That's entirely up to you!
If the vision you have doesn't change over time, then you can do it once and it's done forever. Good for you!
But for many of us, our vision of our ideal life changes over time with nuances to the goals and dreams we want to achieve. I recommend revisiting your vision board at least once a year, and what better time than just before the start of a new year!
What do you put on your vision board?
Again this is highly personal.
It can be about your entire life: what car you want to drive? Where do you want to live? What kind of body do you want? Where do you want to travel?
OR it can be only about your career: the awards you want to win, the money you want to make, how many books you publish.
Ask yourself which one would most motivate you… is it the things and achievements?
Or would you be more motivated by an image or word that describes the emotion you want to feel once you've reached your goals?
Other than that, the sky's the limit! You can put whatever you want on your vision board that will inspire you and provide clarity and motivation!
Feel free to be as creative you want!
Join me today live (or on the replay) for lots of tips on where and how to create a vision board that will help you clarify your vision and goals for the year ahead. I can't wait!
Download Your Free Journaling Pages!
Subscribe to download this free guide: "What Do You Really Want Out Of Your Publishing Career?".
These journaling prompts are designed to help you get real with yourself, shut out all the other voices and all of your fears, and just sit with your own desires for a little while. What do you truly want?
Your answers here will guide the decisions you'll make about everything moving forward! As a bonus, you'll also receive weekly updates from me with links to my new posts and YouTube videos.