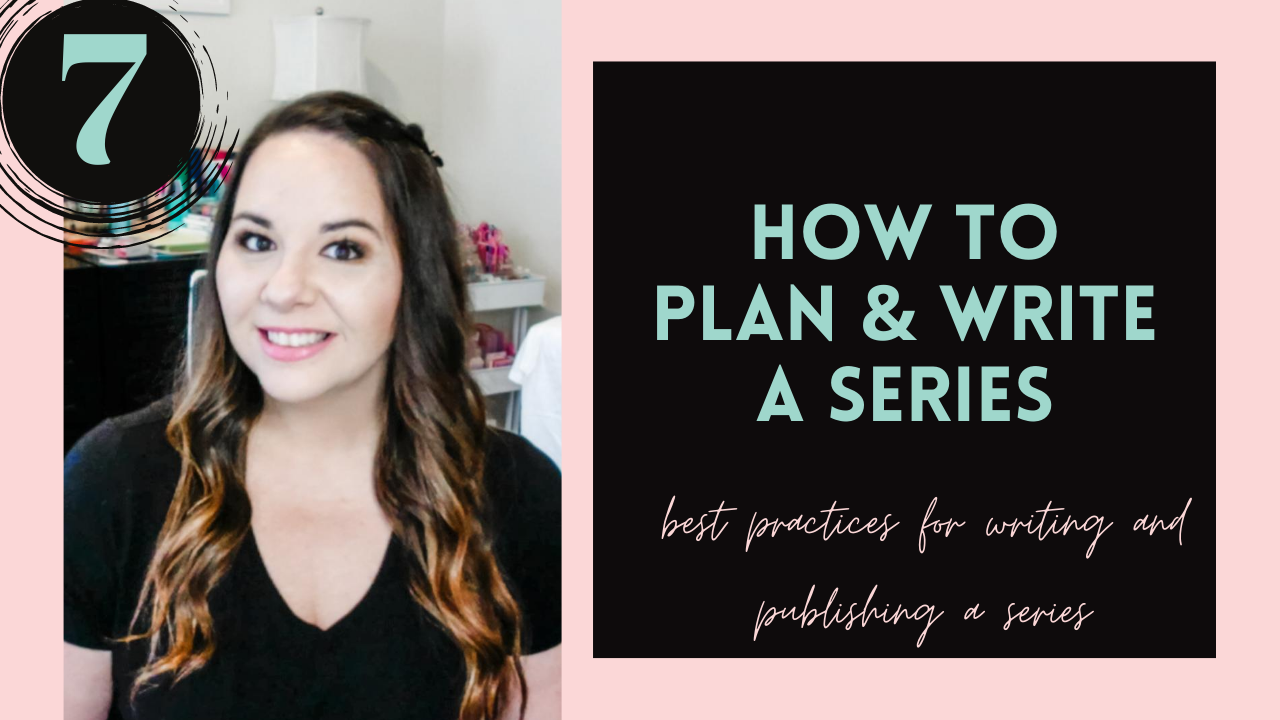 10 Best Practices When Writing And Publishing A Series (How To Write & Publish A Series, #7)
August 27, 2020 by Sarra Cannon
Self-Publishing Tips | Writing Tips
I'm back today with my Top 10 best practices to follow when writing and publishing your series. This is our final content video in this series, but I'm excited to say I'll also be doing a Q&A on Series Writing coming up next week, too.
Watch today's video on the 10 best practices for Publishing A Series.
I've also outlined these ten points below. I realized pretty quickly, though, that I could make a full-length video (or two) on each of these points. Due to time, I've just briefly touched on each one, but be sure to comment if there's one of these practices you'd like to hear more about in a future video.
Tip #1: Be Consistent
This tip carries through every part of your career. The series you're writing, the genre you're writing, the way you show up with your fans, how often you publish, the quality of your writing, and the cover art or branding on your website.
Every single piece of your writing career from the books to your marketing is going to benefit from consistency. This tip will play into many of the following best practices. Yes, it's really that important!
Sometimes, of course, it's going to be impossible to stay consistent without burning out or pushing yourself too hard. It's important to take breaks or make changes when you need to for your own mental health and wellbeing, but the more you can set yourself up with a consistent, healthy schedule, the better off you will be from the start.
Tip #2: Continue To Learn
It doesn't matter if you've written two books or two hundred. There is always a next level, and there is always more to learn. As you think about and plan for your writing and publishing career, always keep your "student" hat on, because the more open you are to learning, the more you will grow as a writer.
In the beginning, it can feel overwhelming to think about all the things you need to learn to write and publish and entire series, but all you have to do is learn a little bit at a time. Sometimes you will learn simply by your own experience of writing and testing things.
You can also learn by reading books and taking courses on writing and publishing. Another great way to learn how to tell a great story is to consume stories by other great writers, be it TV or books.
Keep learning. I promise this is one of the best things you can do for your skill and your career.
Tip #3: Know Your Readers
In marketing, there's a well-known idea that having an "Ideal Customer" is a powerful marketing tool for your business. I highly recommend spending some time thinking about your "Ideal Reader".
Know what types of things they like, what their average income is, whether they are a student or married with three kids, what kind of job do they have, what kind of TV series do they love? The more you can know about the kind of reader who is most likely to pick up your books, the more effective your marketing will be.
This is also known as "Reader Targeting", and it's really important in terms of connecting your books with the right readers. It's also very important to know what your readers expect when picking up a book like yours.
The more you can know about your readers and what they like about books like yours, why they would pick up your book in the first place, and how they most like to connect with authors, the better.
Tip #4: Focus On One Series or Genre
This tip goes back to consistency, and it's probably one of the most difficult pieces of advice for authors to follow. Trust me, I understand! I have had a reallllly tough time following this advice myself.
That being said, I also feel like splitting my focus between multiple series was one of the biggest mistakes I made in my career. Read more about my mistakes when publishing series here.
Even if you enjoy writing multiple genres and types of stories, one of the best things you can do for your career is to start out by publishing a single series consistently.
Tip #5: Keep Detailed Notes
Staying organized with your series notes in some kind of Series Bible is going to help you so much in developing and writing your series. It's so important, actually, that I created an entire video on Series Bibles.
It's also important to keep detailed notes on your series metadata – your keywords, categories, blurbs, ISBNs, and other data related to your series. I keep mine in a Google Doc, but no matter where you keep it, it's important to stay organized with your information. Otherwise, it quickly becomes difficult to keep up with everything over time!
Tip #6: Have Consistent Branding
One of the best things you can do when marketing and publishing your series is to develop a cohesive brand. That means making sure the fonts are the same across the series, the cover art looks like it belongs in the same genre and to the same series, choosing a branded font for your name on each of the books, and more.
Take a quick look at some of the bestselling series on Amazon. Look at the way they are branded to look like they belong together as a set. Use this to your advantage with images and with titles.
You can take this a step further by making sure your author branding is also in line with the main series branding and colors.
Tip #7: Publish As Consistently & Frequently As Possible
In many ways, I really resent the recent push to write as fast as humanly possible (or faster, in some cases, with the use of ghost writers). At the same time, though, it's become a harsh reality of self–publishing that the faster you can write and publish, the better off you may be.
The good news here is that good books are still valued and treasured by readers, regardless of how long they take to write. The key to success is to write consistently and publish as frequently as you can while still producing a quality book.
For you, that's going to mean finding that balance between a sustainable schedule at a quality you can be proud of.
To give my truest advice, though, I highly recommend trying to publish a book in your series every 3 – 4 months, if you can swing it. This is particularly helpful when you're starting your series. Once a reader is hooked, they are more likely to wait for that next great book, but even when a reader loves your series, they are likely to get cranky after six months has gone by without a new release (ask me how I know, HA!)
Don't sacrifice quality, but if you want my advice, it's best to try to release a book every 4 months in your main series if possible.
Watch my video on rapid release for more of my thoughts on fast publishing.
Tip #8: Have A Strong Loss Leader
A loss leader is basically an entry-point book to your series that is priced low or free. It means you're willing to lose a little money on this book in order to hook readers in and entice them to buy the other books in your series.
This is one of the strongest marketing tools indies have available, so make sure your loss leader is as strong as possible. That means don't make it a prequel or a seasonal novella. Don't allow it to be riddled with errors or have it be unrelated to your main series.
Instead, put your best foot forward. Make your loss leader the first full-length novel in your main story. Make it free or low priced and invite readers to give it a try. If they love it, they'll keep buying and reading more.
Tip 9: Make It Easy For Readers To Buy
As you grow your author career and your series, think about the reader's journey. If you've used your strong loss leader and your branding to convince them to pick up your novel, what's the best thing you can do at the end of that book to get them to buy the next one?
Where can that reader go to find out more about you and your other books or series? This means you need to have an author platform, a website, and a newsletter. It also means you need to have a vendor-specific link at the back of your book telling them where to easily one-click and buy that next book of yours.
The easier you can make the process of following you and gathering information on your readers, the more they will follow you and buy your next books.
For more reading on author newsletters, check out Tammi LeBreque's book, Newsletter Ninja.
Tip #10: Stay True To Yourself
Yes, this is my final tip, but it's really the most important. When it comes to writing and publishing your series, it's so important to stay true to yourself and your own personal core values.
Writing is a career that makes us all vulnerable. That vulnerability can often bring out enormous amounts of fear.
And when we're in this state of fear, it can make us susceptible to following advice that doesn't really align with our own values or our joy.
I know this personally, because in the early days of writing, I abandoned the types of stories I most wanted to tell just because a group of friends told me that romance was the best way to make money. Out of fear, I sacrificed two years of my joy and my development as a YA writer in order to chase that money and someone else's idea of success.
It wasn't until I finally decided to write what I knew I wanted most to write that I started to find success. Even though many people have said you can't make good money writing YA fiction as an Indie, I have continued to follow my heart in this, and it has led to an incredible career.
I know you want to make money, but trust me when I say that the best thing you can do for both your wallet and your joy long term is to follow your heart and stay true to yourself.
Have Any Questions?
This concludes our video series on How To Write & Publish A Series. I will have one bonus video coming up soon about the differences between a series and a serial, so watch out for that information coming in a week or two.
However, I'll also be doing a bonus Q&A next week. If you'd like to submit a question for the Q&A, comment below, follow my stories on Instagram, or fill out this quick Google form.
I doubt I'll get to every question, but I'll do my best to put the questions into buckets and answer them as accurately as possible.
I hope you've loved this series on writing series. If you're just finding it, head over to my YouTube playlist here.
And don't forget to sign up for my mailing list to get your free series bible checklist and your series writing workbook.
Publish And Thrive
Just a quick note here, too, that I go into depth about these tips and so much more in my Publish And Thrive course. Many of you have asked when I'll be opening this class again, so I wanted to mention that right now, I plan to run Publish And Thrive twice a year.
That means in 2021, I anticipate running the course in February and again in August. We are planning a move coming up, so unless the move gets in the way of my schedule, I'm planning for February 2021 to be the next round. Make sure you're on my mailing list to get news when I open the doors again.
My HB90 Bootcamp course, however, is open for enrollment now! Come join us and get your tasks and goals organized so that you're ready to own Q4 of this year and to make 2021 your most productive year ever. The course begins September 13th and all alumni will receive a coupon for $99 off the next round of Publish And Thrive.