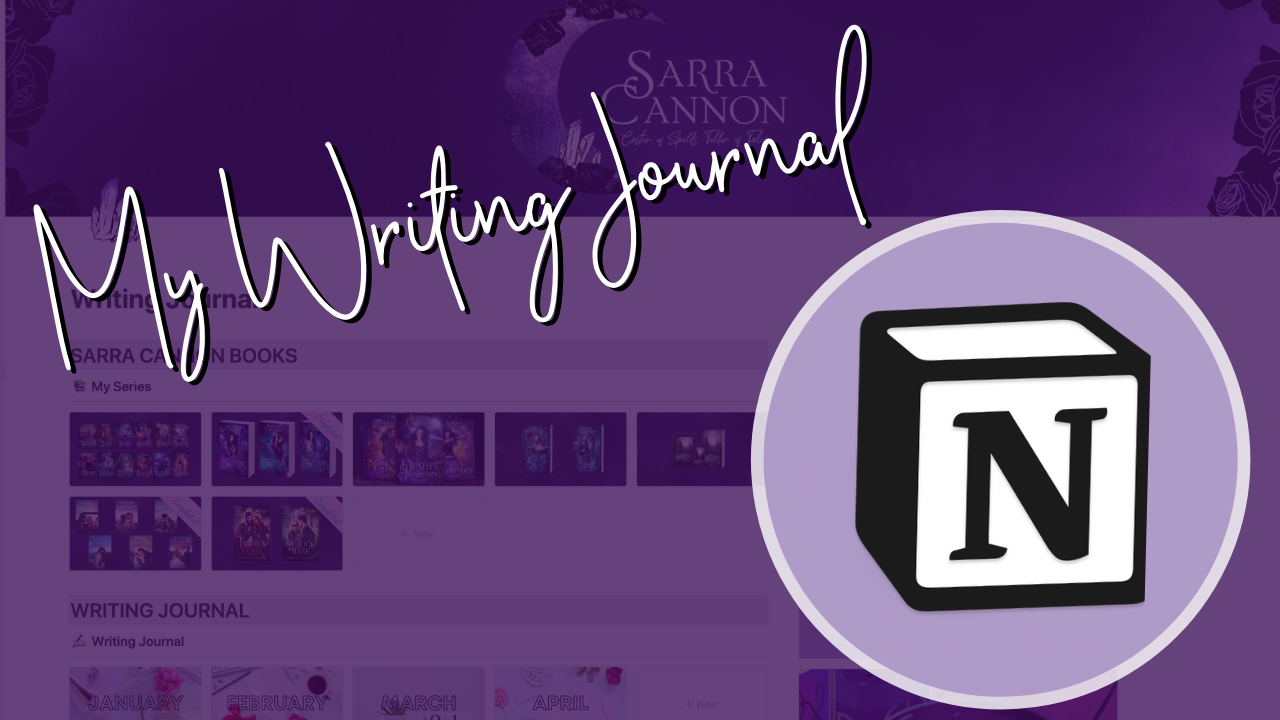 How I use Notion for my Writing Journal
March 11, 2021 by Sarra Cannon
Planning And Organization | Writing Tips
As you all know, I am definitely a pen and paper girl, but sometimes when you need to track certain data, it's just easier to use an app. Lately, I've been trying out Notion as a really powerful tool for keeping up with my writing metadata and a writing journal.
In today's video, I show you how I am using Notion as a writer.
Notion For Writers
What is Notion? And How Do You Start?
According to the Notion website, it's the "One tool for your whole team. Write, plan, and get organized." I use it both as a collaborative tool with my online marketing manager/assistant, and as a personal writing journal where I track my current works in progress.
Notion comes to you as a blank slate and you can design it to do (almost) whatever you want. Because of that, though, you can sort of get lost in setting it up for hours (ask me how I know, LOL).
For this reason, I really recommend checking out some videos on YouTube to give you an idea first of how other people are using Notion, what kinds of things you can build and create inside it, and then writing down a list of all the information you'd like to keep track of there. I think starting out with a sketch or an idea of what you want to build first will take away a lot of that overwhelming feeling of starting off from scratch.
There are a variety of templates you can download (or "duplicate", in Notion's jargon), or you can create your own workspace. I decided to create my own writing journal, with some images I created in Canva, as well as a few pretty gifs I downloaded online. The clean layout and aesthetic look of it motivates and inspires me to actually use it, which is really the whole point, right?
Whatever works for you is the best way!
What I Track In Notion As A Writer
Inside Notion, I am currently tracking my series metadata, my daily word counts, my monthly goals, and my future ideas or "plot bunnies". This is really just the beginning, too. I feel like there is so much potential to really create a system for tracking your writing as you go, keeping up with your data, and collaborating with other authors or with an assistant.
If you want to see a breakdown of what I'm currently tracking and how I have it set up, be sure to watch the video linked above.
Join The HB90 Bootcamp
Just a quick reminder that the Q2 HB90 Bootcamp begins this upcoming Sunday! If you'd like to join in and organize your time and to-do list so you can get more done with less stress, consider joining us now.
Once you've gone through this round, you'll have lifetime access to go through the material at your own pace as many times as you want!