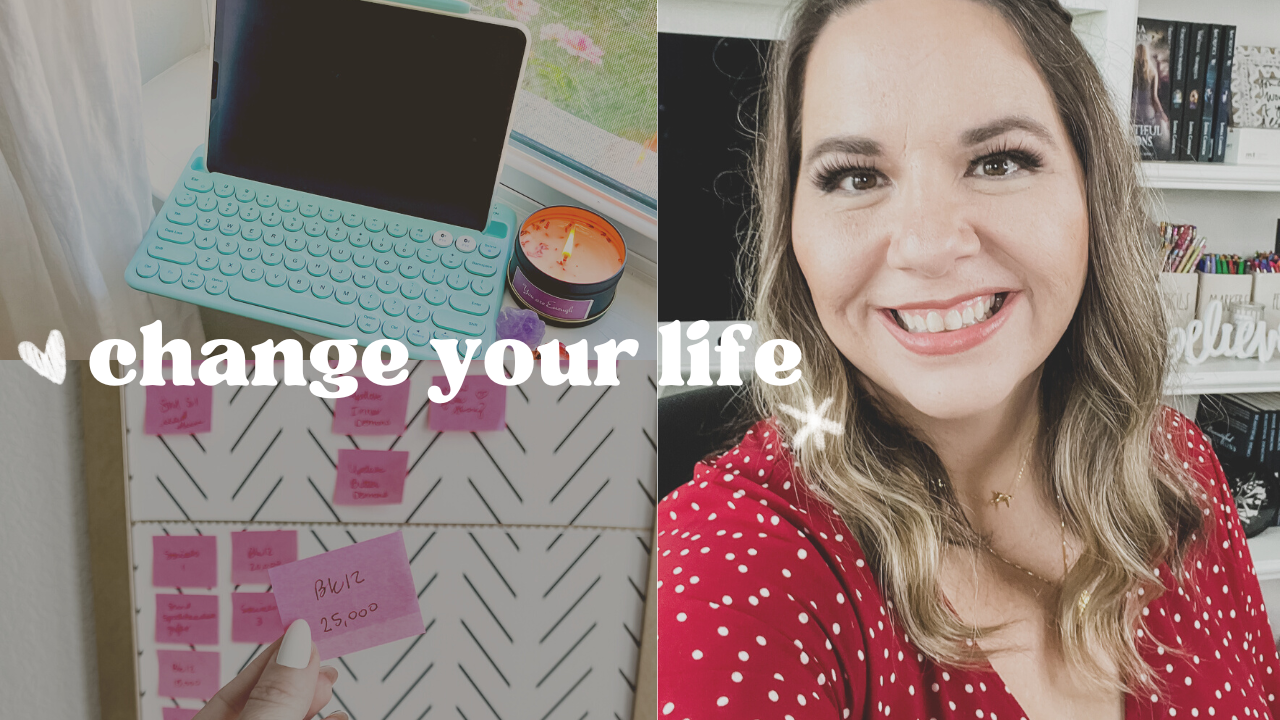 Do These 5 Things To Change Your Life
September 1, 2022 by Sarra Cannon
Lately, I've been feeling this deep desire to make some big changes, but the desire to change isn't always enough. Sometimes, there's this seemingly insurmountable resistance to making change in our lives, and I've been thinking about this a lot, both in terms of why it happens and what to do to overcome it.
If you've felt a similar type of resistance, and you're feeling a desire to make some changes in your own life, I hope you'll find my new video today helpful. I'm sharing 5 things to do to help change your life. Watch now.
How To Change Your Life
HB90 Bootcamp Is Open For Enrollment!
Can you believe we're getting close to the final quarter of 2022? I don't know about you, but I had some big goals and dreams for 2022, and I'm ready to plan an amazing end to this year!
With the HB90 Bootcamp and planner, I walk you through a process of figuring out what you want your life to be and then determining some solid goals that will lead you in that direction faster than ever. What makes the system different from some other types of planning methods, though, is that we take a truly realistic (and sometimes difficult to swallow, if I'm being honest) look at what time you have available.
Like you'll hear me talk about in today's video, so often the problem with planning is that we expect ourselves to make some kind of quantum leap from who we are and what our situation is today to some miracle, perfect person on day one of the plan! And when we can't seem to follow through as this "perfect" version of ourselves, we feel overwhelmed, hopeless, behind, and unsure how we're EVER going to see our dream life become a reality.
If this resonates with you at all, I urge you to join us in the Bootcamp. Learning to plan in a more realistic way, meeting yourself just as you are, is life-changing.
I used to feel like there was no way I could ever do enough to make my dreams come true, but over time, with the help of a visual work flow that is realistic and achievable, I have seen so many pieces of my absolutely dream life come into place. (Even more so than I ever imagined in some cases!) I want to see you living your dreams, too.
Registration is open now until September 11th at Noon Eastern time, and we'll start the Bootcamp that day with a live kick off call.
In the meantime, I hope you enjoy today's video! I've got the Notebook challenge coming soon, a new writing vlog, and tons of awesome September and Preptober content coming your way this season, and I can't wait!
A couple more things! Double Down Day is Saturday! Find the Google calendar of all the sprint times here. Also, the Q4 HB90 Planners are up on Etsy! Grab yours for 20% off for a limited time. Happy Weekend!!