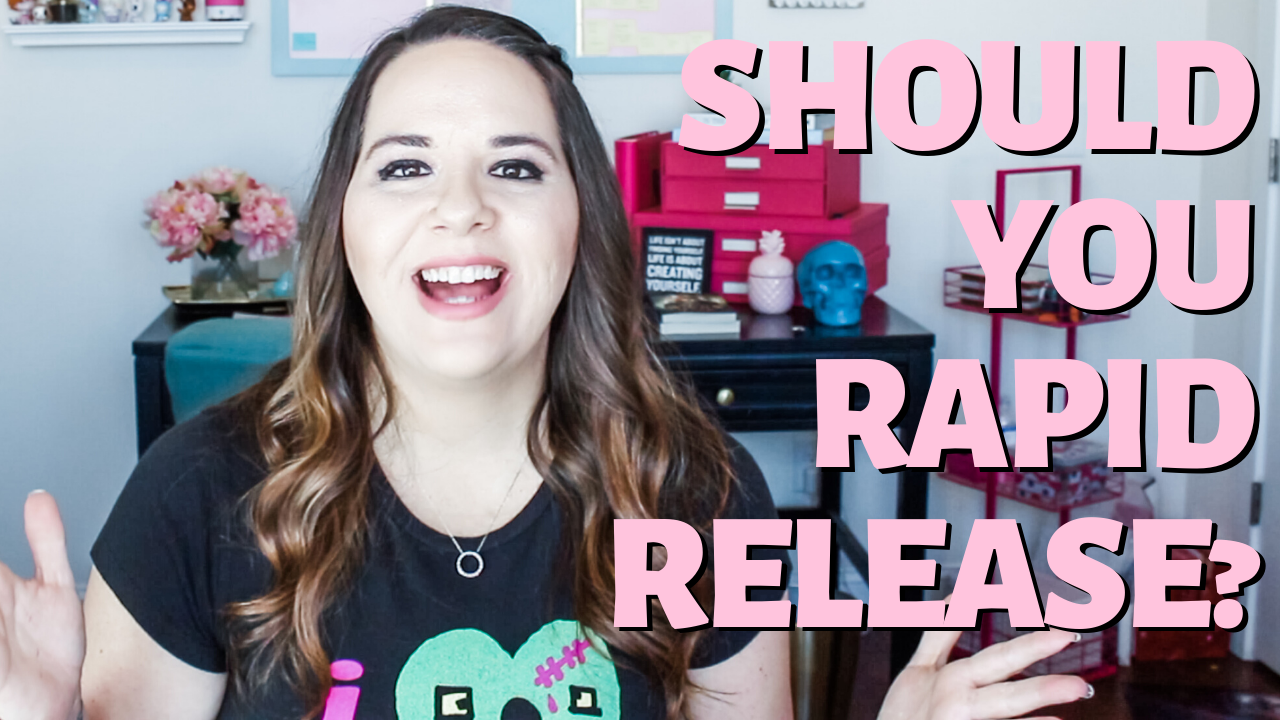 Should You Rapid Release Your Books?
February 6, 2020 by Sarra Cannon
Let's talk about rapid releasing, what it means, what are the pros and cons, and whether this is the right strategy for you.
Or not.
A lot of authors in the indie space are banking on a rapid release strategy, and many of us understand the pros for this in today's market. On the other hand, though, not many people are talking about the cons of this strategy long term.
So, let's talk about whether rapid releasing your novels is the right strategy for you.
Watch Today's Video on Rapid Release Strategy for Books
There's no doubt that rapid release can be a very powerful strategy. However, there are also some potentially dangerous drawbacks to rapid release strategy.
Another thought I had after creating the video that I forgot to mention is the idea of just how fast the market shifts in indie. It's really important to understand how quickly the indie world can move. What works today might not work in a month or a year.
When Liliana Hart rapid released her books, it made a splash because no one else was doing it. Now, there are a lot of people releasing their books quickly (especially inside KU), and it's already becoming less effective unless you're in a really trendy genre or already have a large fanbase.
What will this look like in a year? Two years?
It's a very real possibility that rapid release will become so common that it does nothing to help boost you up in rankings and visibility a year from now. I don't have a crystal ball, so I can't say for sure, but I can tell you from my own experience watching the market the past ten years that effective marketing tactics can often become less and less effective the more people use them.
What are your thoughts on rapid release?
I know this can be a controversial subject, but I'm open to comments and experiences in the comments, as long as you are respectful of the fact that different people have different perspectives on this.
In the end, you have to do what you feel is best for you, but I wanted you to be aware of some of the downsides to rapid releasing your books, too.
I hope you enjoyed this video.
Sign Up For Publish And Thrive
If this video resonated with you, and you are looking for the knowledge and tools to get started with your own self-publishing career in a way that will sustainable and joyful, I'd love for you to join my Publish And Thrive course.
We begin this round on February 10th, so it's coming up soon! It won't be offered again until Fall at the earliest, so I'd love for you to join if you feel the time is right.
See you there!