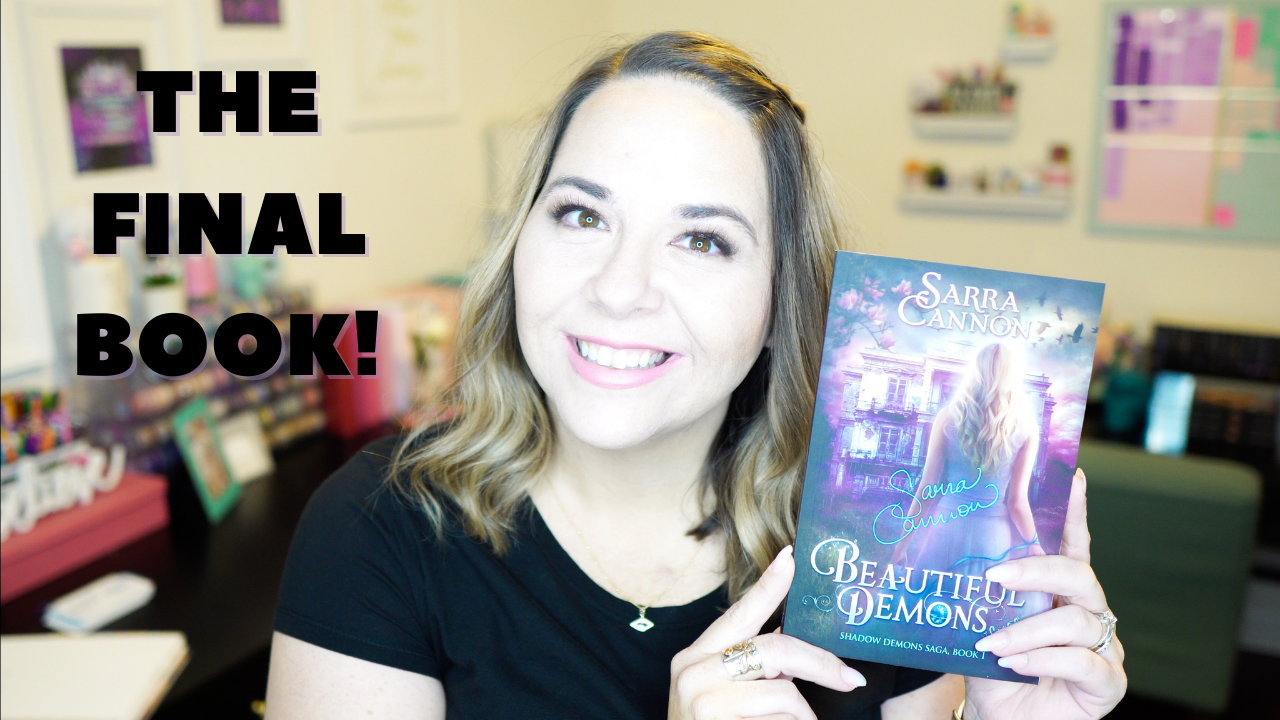 Starting The Final Book in My Series
July 22, 2021 by Sarra Cannon
I honestly can't believe the end is almost here. When I started writing the Shadow Demons Saga back in 2010, I never dreamed it would be such a huge part of my life and career.
As I begin setting up my plotting notes and getting ready to start drafting the final book in the series, I took a dfay to reflect on what this series has meant to me.
Watch my video on starting the final book of the Shadow Demons Saga here.
Starting the Final Book of the Shadow Demons Saga
Setting Everything Up
When I'm starting a new book, a big part of the setup process for me is getting all of my supplies together and setting up my plotting notes.
This step is by no means necessary for all authors, of course, but it's something that brings me joy and helps me to get in the right mindset to start a new book.
I love to take a day or two to create my index cards, set up a plotting notebook, and gather my sticky notes and pens in colors that coordinate with the number of POVs in the new book.
For this particular book, there are 4 primary points of view and 2 others that will only appear a handful of times in the book. I've been using the same 4 colors for these main characters in the series since 2016!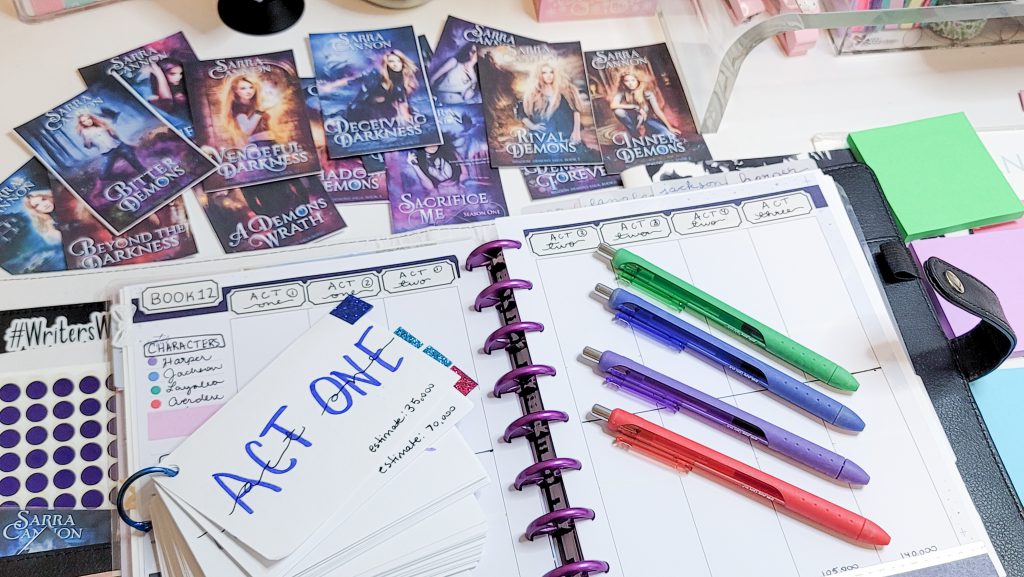 I also like to set up a plotting wall. This is basically just a large, empty wall across from my office where I have enough room to tape large sections of easel paper onto the wall using masking tape or painter's tape. I section this paper off into five parts.
Act One, Act Two: Part 1, Act Two: Part 2, Act Three, and then a Notes section. I also do like to have a small section at the top to make notes about my main POV characters and their arc throughout the story.
Once everything is set up for this book, I plan to go back and reread the entire Shadow Demons Saga, including all of the many side stories and novellas I've written in the past decade that tie into this series.
If you're interested in checking it out before the final book releases, you can find links and a full reading order list on my Sarra Cannon website.
What It Means To Me
Emotionally, this series has truly meant the world to me. I never dreamed it would become such a huge series in the beginning, because I thought it was only meant to be a trilogy. As I started writing, though, the world continued to grow, and I knew this main character, Harper, had so much more to fight for in her life before she was truly done with the Order of Shadows.
Harper and her friends have been a part of who I am for a decade, and I wouldn't be the writer I am today without her. Thinking about writing the final part of her story gives me goosebumps and makes me feel overwhelmed, grateful, and sad all at the same time. I don't know how on earth I'll ever say goodbye.
Over the past decade, I have sold over half a million copies of the Shadow Demons Saga world books. That still completely blows my mind.
Particularly because so many people told me that "no one buys YA from indie authors" and that "self-publishing will ruin your career". Those two statements couldn't have been further from the truth.
I'm so grateful I listened to my heart instead of the people who doubted me.
Self-Publishing Has Changed My Life
Back in 2010, the decision to self-publish was not one I took lightly. Everyone said it was a career-killer and that "only people who can't sell to trad publishers self publish." But in my heart, I felt that it was the right path for me.
Now, of course, it's much more common to self-publish, because over the years, many authors have proven that it's a valid way of reaching readers and making a living as a writer.
Over time, though, self-publishing has actually become more difficult. There's a ton of false information online, and a lot of bad advice. If you are interested in learning from someone who has been there from nearly the beginning of the digital self-publishing age and has found success writing what I love rather than what everyone told me I should write, I hope you'll consider joining my Publish and Thrive course.
This is a 5-week intensive self-publishing course that will teach you everything you need to know to get started and be a success, from how to start your business, format your books, upload, track sales, all the way to marketing and mindset for years to come.
The doors open on Sunday! Find out more here.