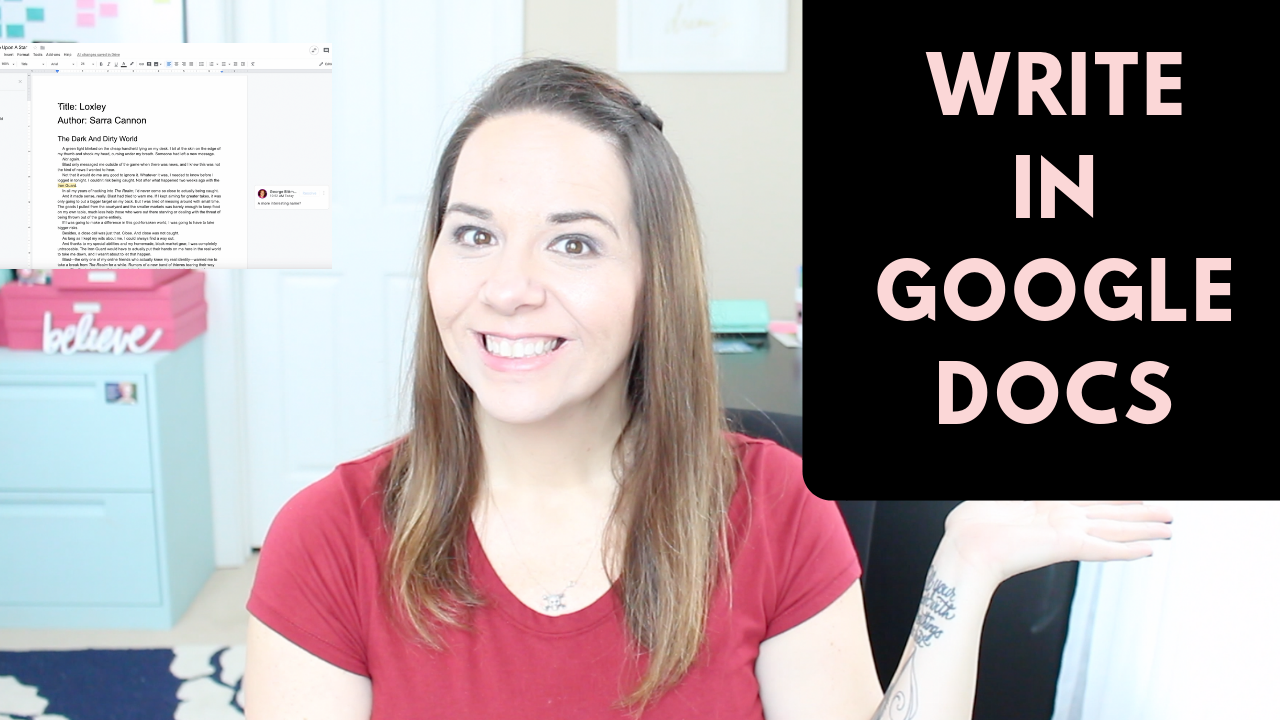 Why I Write In Google Docs (Instead of Scrivener!)
March 1, 2019 by Sarra Cannon
I used to be a die-hard Scrivener fan, and while that program is still one of the very best out there for fiction writers, I have fallen in love with writing in Google Docs. Today, I'm going to give you my top 3 reasons for why I write everything inside Google Docs now, instead of using programs like Scrivener or Word.
Top 3 Reasons I Love Writing In Google Docs
In today's video, I take you through the biggest advantages to writing in Google Docs, as well as show you a peek inside my writing and editing process. Watch the video below or head over to my YouTube Channel to comment over there.
Prefer to read, instead? Just keep scrolling, and I'll take you through my top reasons, one at a time.
Reason 1: Auto-Save
If you're a fellow author, you know that one of the absolute worst things that can happen to you when you're in the middle of a novel is losing your work. I want to cry and pull my hair out just thinking about it.
I have had files get corrupted and lost in the past, and it was the most heart breaking experience for me. Totally devastating. And, of course, even when you rewrite those lost chapters, you always wonder if the first round wasn't completely brilliant in comparison, amiright?
When I was using Scrivener, I was constantly losing snippets and getting confused about which file was the most recent file. This may not be an issue if you're always writing on the same device, but I am a multiple-device kind of person. I write on a laptop when I'm out, and I write on my PC when I'm at home. It wasn't easy to switch between devices with a program like Scrivener or Word (at least it wasn't several years ago).
When I discovered the beauty of Google Docs and its constant auto-save to the cloud, I was hooked.
Google Docs literally saves every keystroke as you make it. So if the power blinks or lightning strikes, you have everything saved automatically. And it's not just saved to your device, which might be prone to crashes or unexpected catastrophes.
It's saved to your Google Drive. So, unless the worst happens and Google's servers go down entirely (in which case, it's probably already the apocalypse, so who cares about your novel, anyway), you can't lose your work.
Let me say that again. YOU CAN'T LOSE YOUR WORK. It's practically impossible, and that makes using Google Docs as your primary writing software the best choice if you're worried about losing pieces of your novel.
You can also use Google Docs when you're offline, in which case, it will save to your current device until you connect to the internet. At that point, it will sync with your cloud and back up what you wrote while you were offline. These days, though, I'm so rarely offline that this isn't a concern for me.
Reason 2: Seamless Use Across Devices
This is another biggie! Because Google Docs is a cloud-based program, you can literally access it from any device that can connect to the internet.
That means that I can write a few chapters at home on my PC, get up and run my son to the dentist, pull up my novel on my phone while I'm waiting for him to be done, write a few more paragraphs starting where I left off earlier at home. All without me ever having to worry about saving the document. It's like magic!
No matter if I'm working on my tablet, phone, PC, or my Chromebook, I can very easily access my document. Even if I don't have access to my own computer or device, I can visit a friend and as long as I have my Google password, I could sign in on her device and start writing on her computer. No special downloads required.
This in itself is reason enough for me to love writing in Google Docs. I never have to save to a jump drive or email my work to myself and then try to dig it up later. I don't have to worry about whether I have the most up-to-date file on my device. I just have to pull up Google Docs and start writing, anytime, anywhere, any device.
Reason 3: Amazing Collaboration Features
Okay, so if all that wasn't enough to convince you that Google Docs is an amazing option for writing software, maybe my third reason will pull you over to my way of thinking.
The level of collaboration inside Google Docs is awesome.
As a publishing writer who uses beta readers and input from others in my editing process, Google Docs saves me weeks per projects. WEEKS!
Here's what the process would look like using something without online collaboration features:
I use a minimum of 4 beta readers on each novel and story I write. If I were using Scrivener or Word, I would most likely have to wait until I was completely finished with my edits before I sent the completed beta-ready file to each of the 4 of those readers.
Once each reader received their file, I would then have to wait for them to finish the entire document (which could take days) before they sent it back to me to start my own edits and changes.
When the betas were finished with comments, I would receive 4 separate files back from them. I would have to go through each file individually, making changes on one master file.
With Google Docs, here's how it changes:
I finish a chapter or a section of my novel in Google Docs (let's say Act One to start) and at that point, I share it with my beta readers. They access it immediately through Google Docs.
My beta readers begin reading the novel while I am still working through final edits of Act Two.
Betas are all working off the SAME FILE online. This means they can skip a typo if someone else caught it first. They can also engage in discussions about the work. For example, if one beta thinks a character's reaction is over-dramatic, my other betas can weigh in on whether they agree or not. If they were working in separate files, they might not have commented on that section at all, and I might have had to go back to them later and ask about that section. This saves me time.
When I am finished editing Act Two, my beta readers can work on that section while I am finishing Act Three, and so on. Then, while they are still working through the novel, I can already be starting back at the beginning, working through their comments.
I can completely skip the part where I have to go through 4 separate documents to make changes and see edits. It's all in one place.
Can you see how this saves me weeks for each novel? My beta readers can be making comments on the first part of a story while I'm still finishing my edits, and I can be working through their comments while they are still reading the ending. Google Docs eliminates the waiting game between each pass, and for an indie author, this is a valuable time-saver.
What Do You Think Of Google Docs?
So, there you have it. My Top 3 Reasons why I write in Google Docs and highly recommend it to other novelists. No, Google Docs doesn't have all the fancy features of a program like Scrivener, but for me, the benefits are huge enough that I'm willing to miss out on those other features.
I would have to say, the biggest downside to Google Docs (besides the lack of Scrivener's features), is the grammar and spell-check are nowhere near as valuable as Microsoft Word. For this reason, I do still run my final file through Word's grammar check before sending it off to my editor. This way, I am giving her as clean a file as possible.
Other than that, Google Docs is hands-down the best writing program for authors that I have found. Between the time it saves me, the peace of mind I have from the constant auto-save, and the ability to seamlessly switch between devices, Google Docs is my go-to for every novel.
Now, I'd love to hear from you. Have you ever tried writing in Google Docs? If not, what is your preferred writing software?
Create A Writing Plan That Helps You Hit Your Deadlines!
Subscribe now to download this Writing Plan and Scheduling page. Set deadlines and track your progress as you write your novel!
If you're anything like me, you constantly feel behind and yet, you continue to procrastinate! Looking ahead, setting goal dates, and keeping track of your schedule as you write is one way to stay motivated and on target.