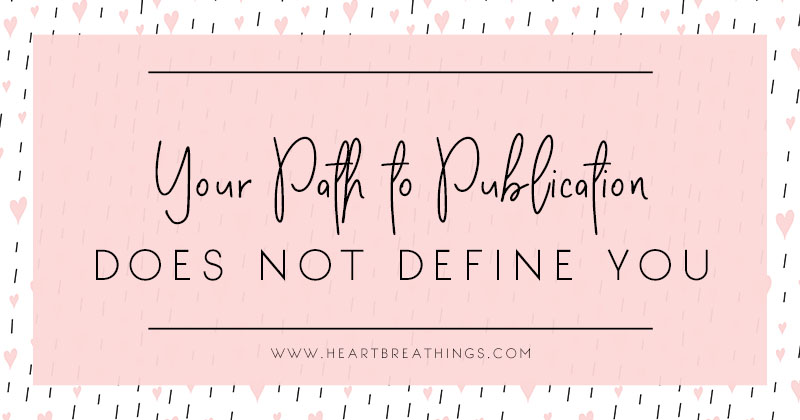 Your Path To Publication Does Not Define You
February 9, 2018 by Sarra Cannon
In the years since I became a writer, I have heard many labels thrown around. Writer. Author. Small-Press Author. Big Five Author. Romance Writer. Bestseller. "Real" Author. Indie Author. Hybrid Author. I could go on, but I think you get the point.
We can become obsessed sometimes, constantly searching for that one label that defines who we are. Am I good enough? How can I tell? I know! I'll check which label people have affixed to me and see if it measures up to some arbitrary ideal.
When I first started writing, I was just an aspiring author. I hadn't actually authored anything beyond a few terrible poems and many, many angsty journal pages. But I got better. I studied craft and learned how to tell a story and write characters people cared about. I wrote a novel. I got a request and a rejection from a Harlequin editor, and suddenly RWA slapped the label of PRO onto my forehead. You are not just aspiring! You are an author! (However, you are not yet good enough to be labeled a "published author". Keep trying.)
For those first years of my newbie writer life, I defined myself by those labels, hungering to someday be a "real" author or a "published" author. I was one of the ones who believed that in order to get that label, you had to be chosen by an agent and editor, and your book had to grace the shelves of real bookstores like Barnes & Noble. Well, I believed it until I started opening my eyes to the possibility of something more.
Something different.
I started watching this author named Amanda Hocking rise up in the Kindle store with her 99 cent YA books. What? How was this happening?
My Stories, My Way
Like many of you, I started reading Joe Konrath's blog. I started doing Google searches, looking for anyone out there who might be willing to share sales numbers and income. Was self-publishing something people could really find success doing? Whoa! Back in the old days of 2010 (ha!), this was mind-blowing.
There was a part of me that wanted to jump in with both feet and give it a shot. I had only ever pitched my books to one editor and one agent, but they both told me I was amazing and then rejected me. I didn't like the way that made me feel, and I didn't like the idea of someone else deciding whether readers would ever get the chance to discover my stories.
But there was also a part of me that was afraid. If I self-published, I knew that meant giving up the possibility of some of those coveted labels. Published Author. NYT Bestseller. I would be Indie. Or self-published. I would be less-than. At least that's what people thought back then. (It still amazes me any time someone stills holds those beliefs today, after all we've seen.)
Still, I was able to do some soul-searching and realize that those labels didn't matter to me nearly as much as getting my stories out there. I wanted to be a writer!!! I didn't care what other labels anyone would slap on top of that. I just wanted to write for a living.
I wanted to write my stories, my way.
So I jumped. I threw my whole self into publishing and it was one of the best decisions I ever made in my life. Screw labels. People were buying my books. Call me whatever you want. In my heart, I knew I was a writer. Becoming an Indie was a choice I made, not a concession. It was a victory, not a defeat.
We Are All Equals Here
Over the past eight years, great strides have been made in recognizing Indie authors as "real" writers. We are not aspiring. We are not less-than. We are just writers. It's time to pull down the fence between Traditional and Indie and realize that we are all equals here
Yes, there are major differences in the two paths. Yes, many believe one way is better than the other and those debates will continue. Those debates are healthy and good. But we also need to realize that one path does not make one set of writers any more REAL than the other.
A writer's path to publication no longer determines the quality of that publication. There is quality in abundance these days, regardless of label. We are all capable of getting our stories into the hands of readers.
The very act of creating is what makes us writers.
The path we choose should not define us.
The labels society has placed on us for years should not be our validation.
We are writers. Let's stop pretending these labels matter the way they used to, and instead, let's start lifting each other up. There's room for us all to succeed in this new world. I believe that with all of my heart, and that's why I am starting this blog. This is my new space to share what's in my heart and to lift up and encourage all those who are passionate about writing.
I hope you'll join me as I discuss why we should all BELIEVE in ourselves, work to INSPIRE each other, and RESPECT all authors, regardless of their path to publication.
**This post originally appeared on my blog, Yes, I Am A Writer, and has been republished here.
Are you ready to take the next step toward the writing career of your dreams? Sign up here!
As a bonus for subscribing, you'll receive my free guide, "Everything You Need Before You Self-Publish".
Knowing exactly what information you need and what decisions you have to make before you publish your book can sometimes feel overwhelming.
Let this free guide lead you through the steps toward making your first book available now! Download today for free.