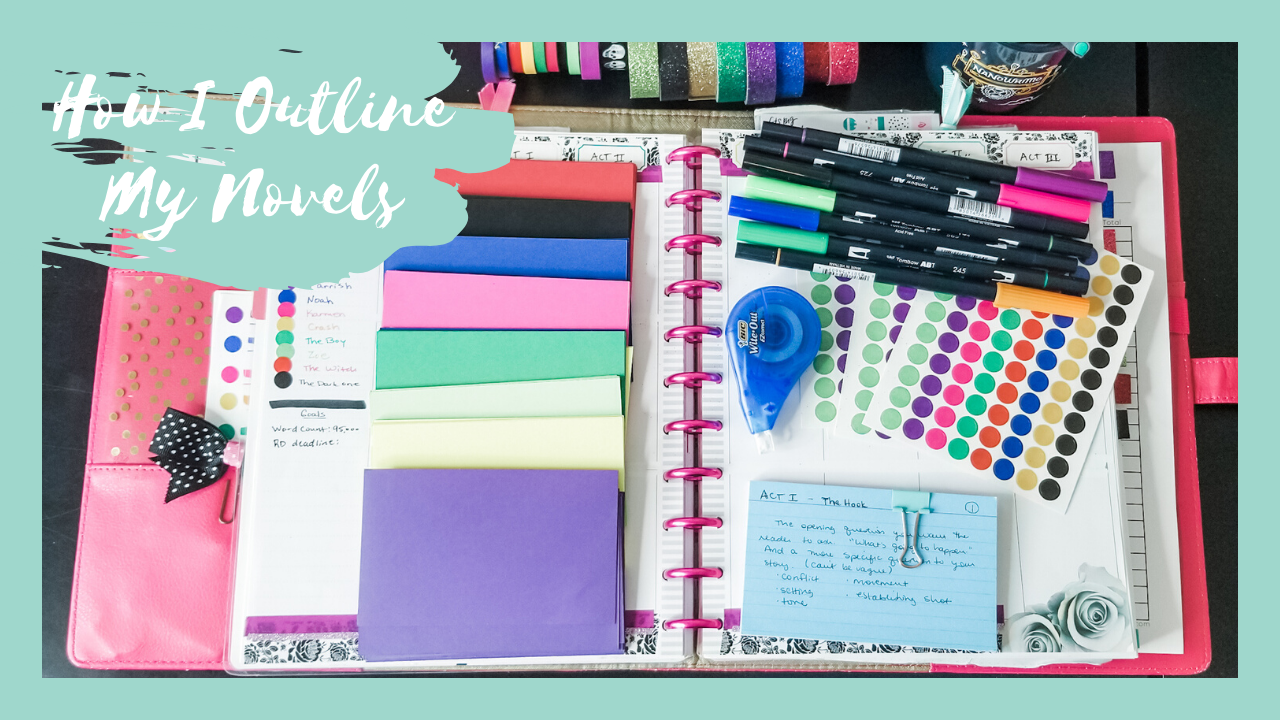 How I Plan And Outline My Novels
October 25, 2019 by Sarra Cannon
Whenever it's time to start a new book, I have a process I've learned to follow that helps me outline my novel. I thought I'd share that process with you today.
Especially since we're currently on the eve of NaNoWriMo and deep into Preptober.
You can watch the video here on YouTube or below.
I also wanted to say that there are TONS of different ways you can outline or plan your books. Or maybe you're someone who doesn't like to outline at all! There are no one-size-fits-all ways to write a novel, but it is so important to find the way the works FOR YOU.
One of the most helpful things for me when I was learning how to write a book was to watch how others did it. The more I learned, the more tools I had to try out for myself.
Eventually, I did find a process that gets me excited and helps me to organize my thoughts. Outlining is one of the most joyful parts of the process for me. Probably because of all the fun and colorful stationery I get to use :P. Haha!
Outlining My Novel
Steps To Outline My Books
The steps I follow in the video are:
Step One: Gather My Materials
Step Two: Set Everything Up
Step Three: Reread and Identify Story Threads
Step Four: Fill Out Plotting Workbook For Each Character
Step Five: Create A Scenes List For Each Character's POV
Step Six: Weave Those Scenes Together And Create The Order They'll Occur
Step Seven: Write Scenes Out In Plotting Sheet
Step Eight: Explain Scene Details On Color-Coded Index Cards

For me, outlining my novel takes as much time (if not more) than actually writing the book sometimes. However, these steps are crucial for me, as I have learned over time that if I don't have a clear idea of what's going to happen in the story, I have a hard time writing at all.
Once I have these steps finished and the index cards are as detailed as I can get them at the beginning, I start writing the rough draft.
Inevitably, the story is going to change and grow as I write, and even though I spent that much time creating an outline, I have learned to surrender to the fact that things will change and parts of this outline will be rewritten along the way.
That's okay, because it's all part of my process. Each step is important, and I never consider any of it wasted time.
How did you discover your plotting or writing process? Or are you still searching for it?
If you'd like to see a video on my completed outline, more tips on writing, or a video on how I discovered my own process, please comment and let me know what would help you most!
Also, I'd love for you to sign up for my weekly newsletter. Sign up below and get my How To Plot Your Novel workbook for free!