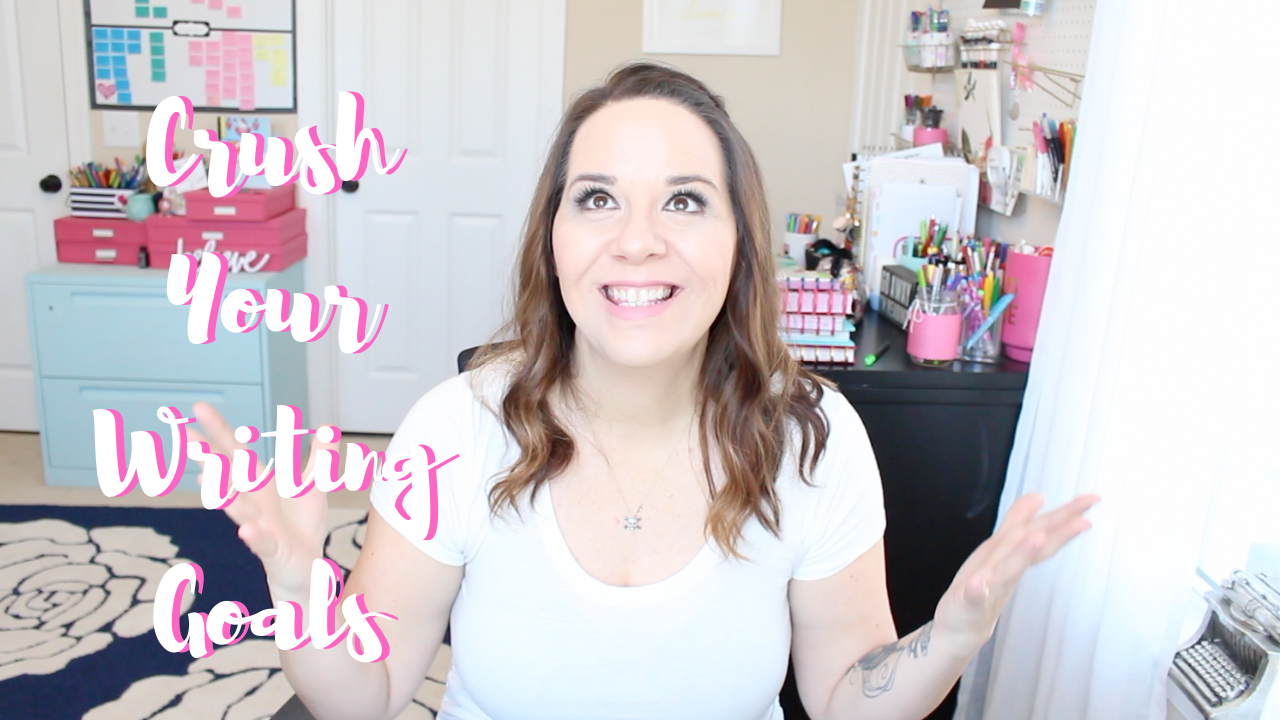 How To Crush Your Writing Goals
March 14, 2019 by Sarra Cannon
A Writer's Life | Planning And Organization | Writing Tips
Do you have a big writing goal that you've been trying to meet? Maybe you're just trying to finish your first novel, or maybe you want to increase your productivity. In today's post, I'm going to give you five steps to crush your writing goals.
Crush Your Goals
These are the number one steps I have taken in the past couple of years to exponentially grow my career and write more books – one of my biggest goals as a writer. Keep reading or watch today's video to find out how I started achieving my writing goals.
Step 1: Get Clear On What You Want
If you've been with me for a while, you know by now that this is a big one for me, and yet it's one of the most skipped steps of all. Guys, this is crucial to your long-term success when it comes to your writing goals. Trust me on this one.
One of the first and most important things you need to do is get really clear on what you want and why. Why are you setting this big writing goal? Why do you want to be a writer in the first place? What does it mean to you?
Where do you want to be five years in the future?
The reason this step is so important is that knowing exactly what you want and why you want it is going to be your biggest tool when it comes to making decisions and motivating yourself to get your booty in the chair.
Setting a big goal without taking the time to figure out why it's a goal and what you hope to get out of achieving it is one of the biggest mistakes you can make, in my humble opinion.
I'm a big believer that we go where we're pointed, and if we don't point ourselves in the direction of the life we truly want to create, we will eventually wind up living someone else's dream or falling far short of our own.
So, take the time to figure out what you want and why.
Step 2: Set Realistic Goals
If reading those words felt like a punch to your gut, then you know exactly what I'm talking about here.
Often, we seem to think that setting huge goals and demanding that we suddenly become our best selves (times ten) overnight means we will push ourselves toward greatness. In reality, that's not what happens at all.
When we set goals far beyond what we're capable of, we tend to get overwhelmed, fall behind, and then give up. So, instead, of pushing ourselves to be our best selves, we wind up getting nothing accomplished and setting ourselves back even more.
Yes, it's important to stretch ourselves and to set goals that motivate us, but there's a point where it gets impossible. Most of the time, you're going to get a heck of a lot more accomplished if you set a goal just a little bit beyond your best so far.
So, if your best ever writing month was 20,000 words in a month, try setting a goal next month for 25,000. There's nothing that says you can't go way beyond it if you're on a roll, but why set yourself up with nearly impossible expectations from the start?
It's important, too, to look at the time you actually have to work and go from there. Don't look at the month and say, "There are 31 days in March, and on my best day, I can write 4,000 words, so I'll write 31 x 4000 words this month." That's a recipe for failure and overwhelm!
Instead, try pulling out a calendar, marking off the days you know you won't be able to write, add in a few for sick days to give yourself some white space, and then tally up the working days you have left. Let's say it comes to 20 days of writing.
Then, instead of expecting every single day to be your best, set a more realistic average of 2,000 words per day (or whatever is realistic and easy for you). 20 days x 2,000 words is 40,000 words for the month, which may be a heck of a lot more realistic for you than the I-expect-a-crazy-best-ever-month of 124,000, which you already knew you weren't going to do anyway!
And it's important to note here that you should be realistic for YOU. Not for who you wish you were or because you want to be in competition with someone else. If 100 words is more realistic for you, then start there. The key is to set yourself up for success and then build on that momentum.
Step 3: Make A Plan
Wheee! This is the best part, isn't it?
When you plan out when, where, and how you're going to hit your writing goals, you set yourself up to succeed. This is so much better than just setting some arbitrary number and then putting no time or thought into how you'll actually hit that goal.
If you want to see how I plan my writing deadlines, check out this post.
One amazing thing you can do for yourself if you haven't already is to figure out your average daily word count and when you are at your best in terms of writing times.
Some of you may already know you do your best writing in the morning, so make a plan to write every available morning. But if you don't know when you're at your best, treat it like a little game or experiment.
Take next week and set aside time to write in the morning. Get yourself a notebook 😛 and make lots of notes on when you were writing, how long you wrote, and what your output was for that time of time. Then the following week, try afternoons. Then try evenings.
When your experiment is over, you should have a pretty good idea of when you are most productive. You may also want to take time to figure out where you're most productive. Do you write well around other writers? In total silence? At a cafe? Use that knowledge to your benefit.
When you have the data you need, make a plan of exactly how, when, and where you'll write to hit your next writing goal.
And don't forget to plan out some rewards for yourself along the way. This can do wonders for your motivation!
Step 4: Stay Focused
Writing is tough, and for most of us, there comes a time in every project where it just feels like it's never going to come together. This is a crucial time for you to stick with it and stay focused!
I know so many writers who hit this tough spot in their manuscript and all the doubts begin to set in. Maybe this isn't the right story? Maybe this will never be good enough?
And you know what that often leads to? Plot Bunnies and endless distractions!
Shiny new ideas hop into our heads and try to convince us that they are much more fun or "right" than the really tough idea we've been trying to bring into fruition.
That new show on Netflix everyone's talking about will suddenly seem infinitely more interesting and rewarding than sitting down to slog out another crappy chapter.
Don't give in!
This is the most important time to buckle down, stick with the story you committed to, and stay focused.
Check out these videos for more tips on staying focused or what to do if you get stuck.
Step 5: Stop Making Excuses
This is where the tough love comes in, but seriously. If you want to crush your writing goals, you have to stop making excuses for why you aren't getting it done.
One of the most common that I hear is, "I don't have time." I understand how tough it is when you have a lot of other commitments, maybe another job, kids, school work, chronic illness. It's not easy.
But who ever promised you writing a book would be easy?
Writing is a journey. It's a craft. It's a challenge. And it's a commitment. You're either committed to your writing, or you're committed to your excuses. Which one do you think is going to help you get to where you want to go?
Yes, it's easier to sit down and watch TV or hang out on Facebook for a few hours when you get home from work, but if you want to crush your goals, you're simply going to have to make your writing a priority. Everyone is tired. Everyone has a lot to do. Write anyway.
I promise it will change your life.
What Are Your Big Goals?
In the comments, I'd love to hear about your big writing goals. What have you been working toward achieving in your life or with your writing?
If you would love to have some guidance and support in figuring out your ideal future and setting goals, projects, and tasks to help you achieve that life of your dreams, I would love to have you join me in the HB90 Bootcamp.
This course is all about learning how to manage your time, focus on what's most important, and get more done.
HB90 Bootcamp only opens a handful of times a year, and registration for this round will only be open until March 21, 2019. I hope you'll come join us now!
Here's what past students are saying about the class:
"Before taking Sarra's HB90 3-Day Bootcamp Course, I struggled to find focus and motivation to complete my overwhelmingly long to-do list. I felt like every time I did complete something, I wouldn't complete anything else. Setting goals for the whole year only to realize by year's end that I had failed miserably.

This all changed when Sarra introduced the 3-Day Bootcamp and I went in with a slight hesitation — can this course truly help me not only set goals, but achieve them too?

The answer is Yes! Yes, it can! It did! — AND continues to do each and every quarter!

This course is all about you and what you want. If setting goals for the whole year is something that intimidates you, and causes you to give up, this course is for you.

HB90 is well worth the investment in YOU. Get involved with goal setting the HB90 way today, and I promise you won't be disappointed.

~Christina Butrum, Author
"The HB90 Bootcamp completely revolutionized my project-setting process. I had my most productive quarter to date and I feel so much more in control of both my career and goals."


 Katee Robert, NYTimes and USA Today Bestselling Author
Read More About The HB90 Bootcamp Here.