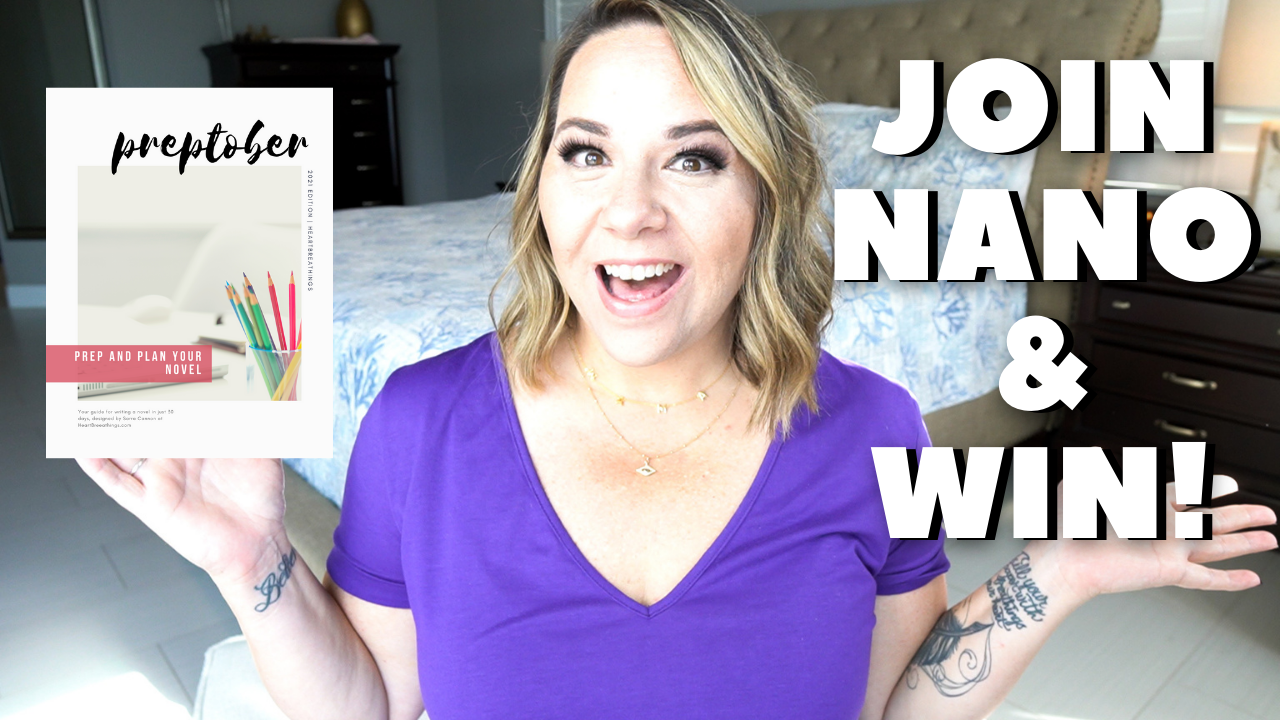 How To Join and Win NaNoWriMo
September 30, 2021 by Sarra Cannon
It's time!!! These next few months are truly some of my favorite of the year, and it all kicks off with Preptober and our plan for NaNoWriMo.
I've spent some time lately working on an awesome new 2021 Preptober Planner to help you plan and win NaNoWriMo and write a novel in 30 days. If you're on my mailing list, you can find this planner download in the resource library. If you haven't joined my newsletter yet, be sure to sign up below, so you can get access to everything in my entire free resource library, including my entire Plot Your Novel Workbook.
Watch today's video on how to join (and win) NaNoWriMo or keep reading for my Top 4 Tips:
My Top 4 Tips For Winning NaNoWriMo
Tip #1: Create Space In Your Schedule
In order to write more words than you normally write, you're going to have to make extra room in your normal daily schedule in order to accommodate that bonus writing time. Technically, in order to write 50,000 words in 30 days, you need to write at least 1,667 words per day.
However, as we talk about a lot on Heart Breathings, it an often be a mistake to think we actually have a full 30 days to write. There's likely to be a few days along the way where we simply can't show up as much as we wanted to. Illness, distractions, doctor's appointments, Thanksgiving, and other commitments can catch us by surprise and put us way behind if we don't plan ahead for these days off.
To create that extra space, you will probably need to adjust your schedule or steal time from other things in your life. That can mean using your lunch break for writing sprints, going to bed half an hour later, or cutting out something else that you normally spend time on, like watching TV. One thing I find helpful is planning my meals in advance, so I'll have an entire video coming up about how to meal prep and create extra time in your schedule during NaNo.
Tip #2: Make A Plan
You all know how much I love to plan, and NaNoWriMo is no exception. Taking a little extra time to plan out which story you'll write, who your characters are, what scenes you might want to include, as well as your meals and how much time it will take you to write can make all the difference.
Check out my How To Plot A Novel series if you want some major tips on plotting your novel, or check out this video from last year's Preptober on using Index Cards to plan out your novel. Otherwise, I'll have a video coming up soon that will show you a way to map out a rough and quick outline for your novel.
Tip #3: Focus on Building Positive Momentum
I am all about some positive momentum in life, because we often waste a lot of our time feeling down on ourselves and stressed out about being behind or not living up to our potential. Instead of letting negativity and fear pull you down, focus on positive momentum and encouragement.
This October, I'm going to share with you some ideas for building a Creativity Toolbox that is going to give you loads of ideas on how to stay positive and motivated while writing.
Tip #4: Make a Personal Commitment
Sometimes, all it takes is truly making the decision that you're gonna go for it. Instead of thinking about past failures or fear, decide right now that you're going to show up for yourself in November and give it your best shot.
I hope these four tips are helpful. Don't forget to join my newsletter and download your Preptober 2021 Planner. I can't wait to share the rest of the content I've been working on for this year's Preptober and beyond.