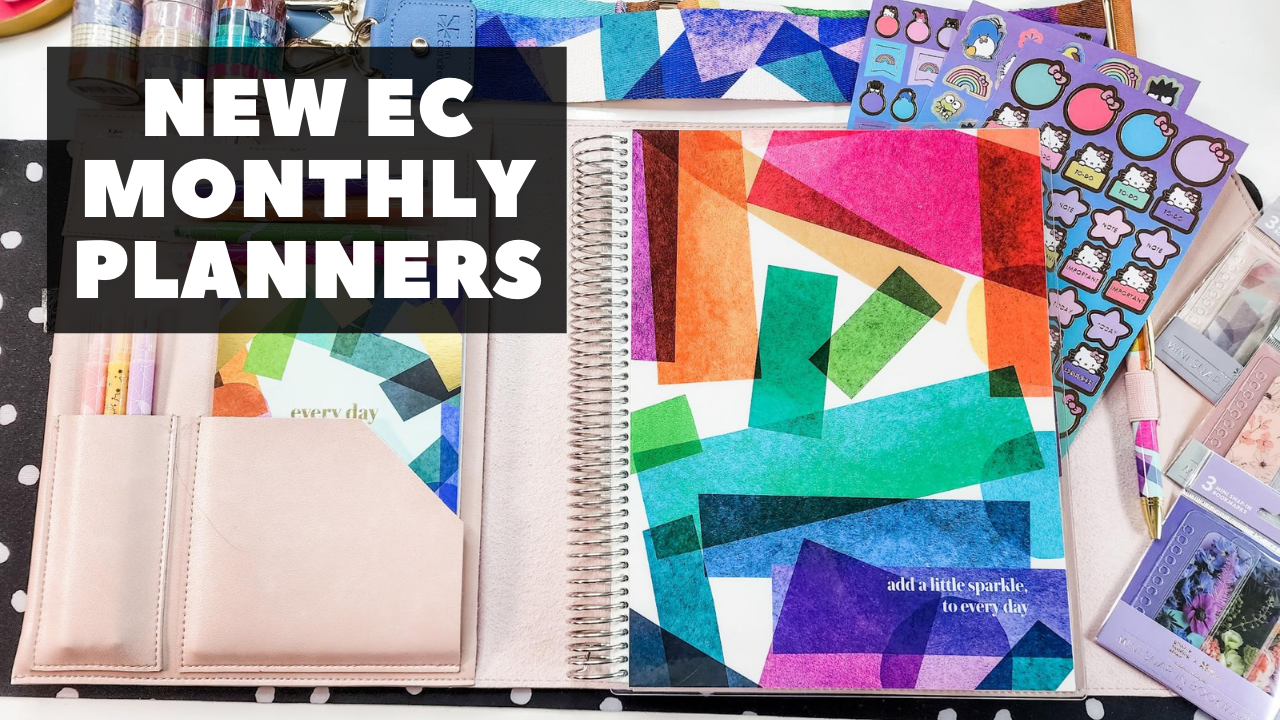 New Erin Condren Monthly Planner
June 2, 2022 by Sarra Cannon
If you haven't guessed it by now, I love Erin Condren planners. Out of all of them, though, the Monthly Planner has to be my favorite and most used.
The monthly planner is basically a planner / notebook hybrid, which is what makes it so flexible and useful. Instead of weekly or daily spreads like a lot of traditional planners, the EC Monthly Planner is a combination of monthly spreads and lined notebook pages.
I'm excited to share a full flip through of the new Erin Condren Monthly Planner in the 8.5×11 size and the Harmony Colorful design on my YouTube channel today. Watch now.
The New EC Monthly Planner in Harmony Colorful
Monthly Planner Details for 2022
Here are some more details about the planners:
🖤Sizes: 7×9 ($40) and 8.5×11 ($45)
🖤Designs: Harmony Colorful, Harmony Neutral, and In Bloom
🖤Coil Colors: Platinum, Gold, Rose Gold
Come June 7th, you can shop the brand new monthly planners here.
New To Erin Condren? Get 15% off your first order when you sign up for emails.
Other Links for products mentioned in the video.
🖤 New Erin Condren LifePlanners
🖤 Dual Tip Dual Ink Markers (I love these!)
🖤 All writing tools (pens, markers, etc)
🖤 New Jurassic World Collection
🖤 Large Blush Vegan Leather Folio
Ideas for using your monthly planner
I am a multiple planner kind of girl, so I pretty much always have at least 2 or 3 monthly planners in use at all times. What can you use them for? Here are some ideas and ways I've used them in the past:
As an editorial Calendar. I love to use a monthly planner for an overview of the videos and promotions I have coming up. I then use all of the notebook pages for outlining and brainstorming the content of my videos and social media posts. It's a great focus tool where you can keep all your ideas about your brand or social presence in one place.
As a meal planner. The monthly spread is a great place to plan out your dinners for the month. You can use the notebook pages for recipes, shopping lists, photos, and more.
As a project planner. The EC Monthly planner is perfect for any major project you have around the house or in your life. Keep track of home decorations or renovations, plan out a special vacation or event, or plan your novel or other big project inside. I'm currently using an EC monthly planner in the larger size as a project planner for my re-record of the Publish & Thrive course coming up, and it's been so helpful to keep all my notes about the course in one planner/notebook.
As a budget planner. Track bills, income, and expenses on the monthly spread, and then use your lined notebook pages to track savings, expenses, purchases coming the mail, and more.
I hope these ideas get your wheels turning about all the great uses for the monthly planner! Again, these beauties and some new accessories go on sale on the Erin Condren website Tuesday, June 7th. All purchases will come with a free magnetic dashboard (While supplies last), so order quickly to get this freebie!
When they go live, you can shop my affiliate link here on the 7th.
*most of the links above are affiliate links, meaning at no additional cost to you, I may receive a commission on your purchase.
Thanks, as always, to Tori and Sam for sending me these gifts in advance so I could share them with you. I am always grateful!
Happy New Planner shopping, everyone! I'll have a full midyear planner lineup coming for you soon!