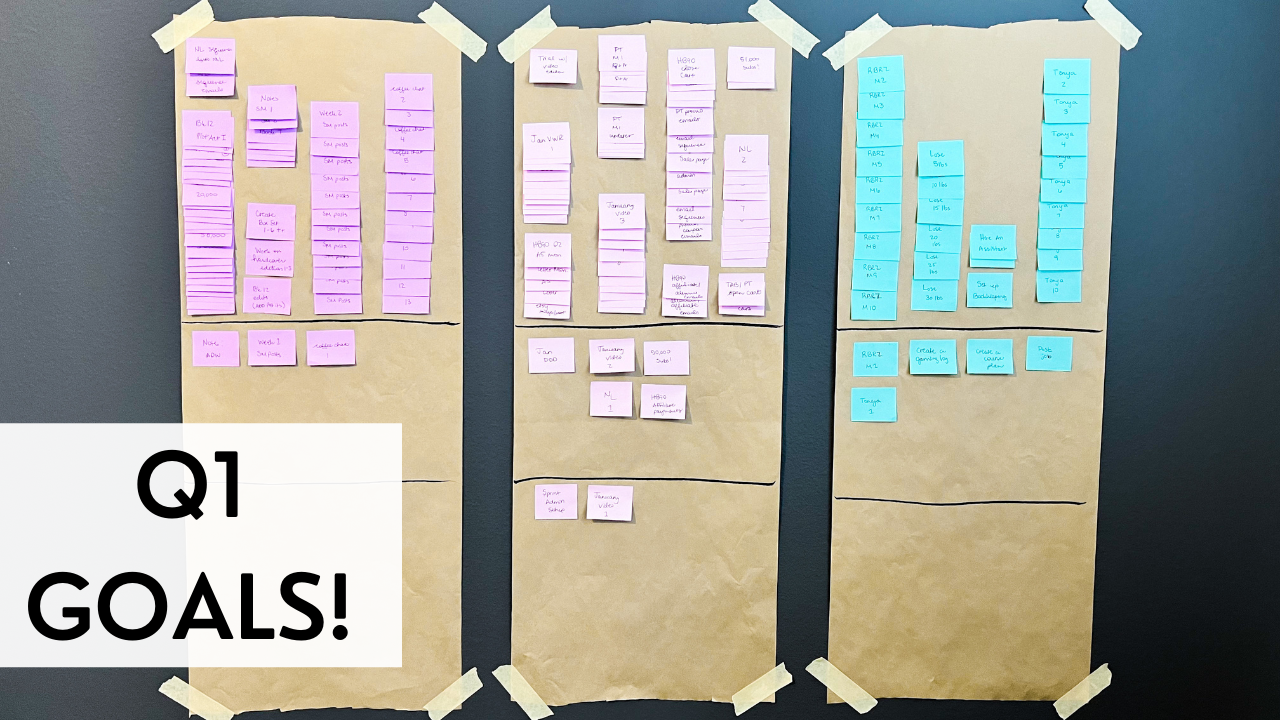 Q1 Goals and Kanban Reset 2022
January 6, 2022 by Sarra Cannon
I'm so excited for the gift of a fresh start every quarter, and I don't think I've ever been as ready for new energy and a clean slate than I am right now in Q1 of 2022. How about you? Have you chosen your goals for the quarter or year?
I'm currently in a 3-month lease in a furnished apartment, and I am so very grateful to have a space to spend most of the quarter, instead of moving around too much. Watch the video, though, for some big news about our housing situation!
My Q1 Goals And Kanban Board for 2022
Grab the HB90 Planner on Etsy
If you enjoyed this video and think you might want to try this system or read more about it, you can buy the HB90 Method printable planner on Etsy now. There is a dated quarterly version, an undated quarterly version, and a yearly workbook that has all the same goal-setting pages without the daily and weekly spreads.
The HB90 Bootcamp course runs 4 times a year and will be offered again in March for anyone who is interested.
My Thriving Author Course Bundle that includes the Publish and Thrive Course along with the March round of HB90 Bootcamp will open for enrollment on January 23rd! Publish and Thrive begins February 7th, and I honestly cannot wait! Add it to your plan now if you want to join us!
More Great Content Coming in 2022
I have spent a lot of time thinking about how to create even better content for you in 2022. I have a lot of great ideas, like a series on how to follow through with your plans, how to finish a book, how to write a sequel, and showing you a full week-in-the-life with my planner to walk you through my process.
As always, though, I LOVE to get your feedback on ideas you'd like to see covered, topics, and series that you think would be helpful. Feel free to comment below, on YouTube, or reach out via email anytime. Thank you for sharing your thoughts!
Join The Heart Breathings Writing Community
For the past few years, I've had a writing sprints Facebook group called the Heart Breathings Word Sprints Challenge. This group was only meant to be a temporary group for a sprint challenge I was running at the time, but as the months went on, the group continued to grow and shift. We started livestreaming writing sprints and even doing monthly virtual events like Double Down Day and a virtual Writing Retreat.
This nearly 4,000 member group has become an amazing community online! So much encouragement and uplifting happening in there! The name of the group didn't quite fit us anymore, though, so I have renamed the group to the "Heart Breathings Writing Community." More than just a sprinting group, this group has become a place for writers to share ideas, ask questions, and post encouragement.
If you're on Facebook, I'd love for you to join us there.
However, I do know that for many people, Facebook is not for you. For this reason, I've created a page here on my website that displays a public Google Calendar and links to everyone's YouTube channels and times for livestreams. That way, you can all join in on the sprints on YouTube if you're not on Facebook! Yay!
Find the writing community page here.
This weekend, we have our first event of the year – January's Double Down Day. Livestream sprints all day and you're challenged to write double your "normal" word count, whatever that may be for you. Click over to the page or join the group to find out the times and Youtube links!