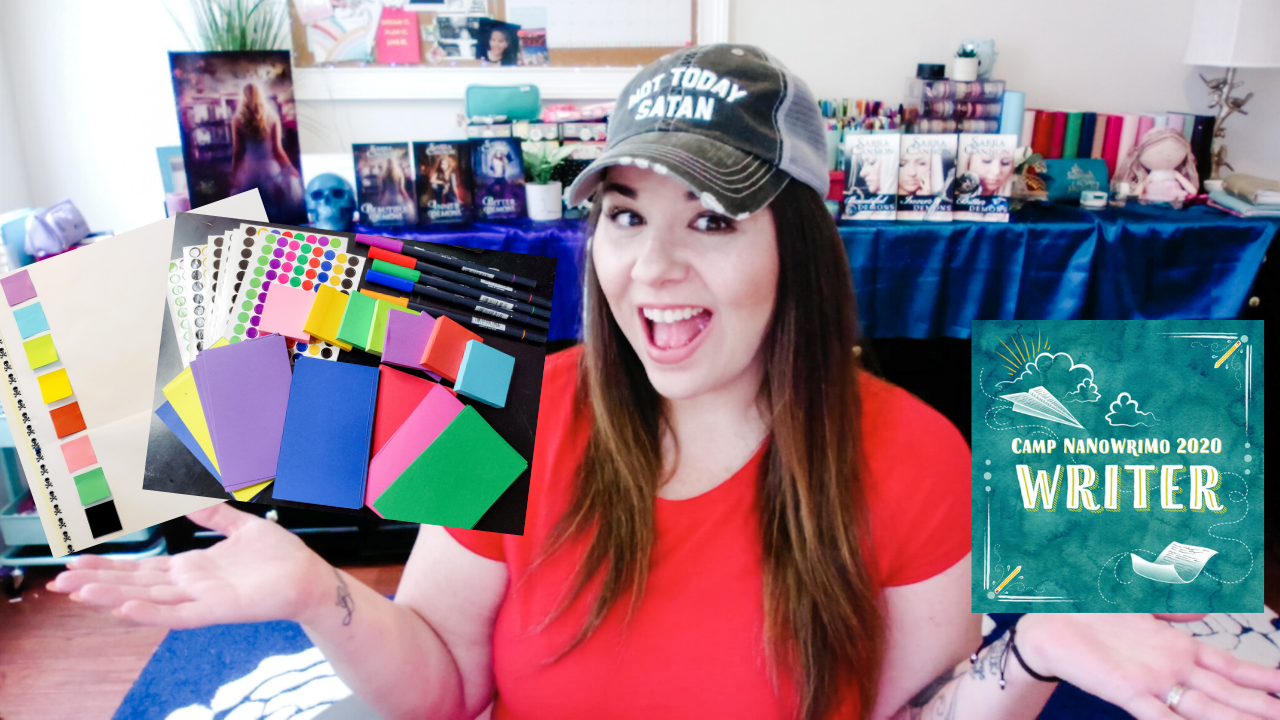 My Camp NaNoWriMo July 2020 Goals And Plan
June 25, 2020 by Sarra Cannon
Anyone else feeling like they need a little bit of writing joy in their lives right now?
I know that I personally can feel like what's going on in the world is so important, I need to be plugged in 24/7. Unfortunately, what that ends up doing is draining me and making me suuuuper stressed and cranky and scared.
What I came to realize after some soul-searching and a ridiculously difficult weekend is that I need to carve out some time for joy and creativity in my life so that when I show up to the important discussions online, I'm showing up with a clear and rested mind.
Writing can truly be such a source of joy, so I was determined to shift my energy back to that and focus on the fun of my story.
My Camp NaNo goals and plan
How I Plan To Win Camp NaNoWriMo
I have found in the past that making a specific plan that includes every detail of how I plan to accomplish my goal is the best way to hold myself accountable.
To set my goal, I've taken into account how many words I'll write and how many days I need to take off throughout the month. Knowing I want to take Sundays off means I can write on 26 out of 31 days in July. However, I know I'll also plan to take my husband's birthday off entirely to be with him
That leaves 25 writing days in July when I'll write 2,000 words per day. My goal, then, is 50,000 words.
I also find it helpful to know when I'm going to write during the day. Otherwise, I tend to make it to the end of the day wondering where the time went and having to squeeze in my writing when I'm already worn out.
Since I want to write 2,000 words per day, I know I'll need to set aside a realistic amount of time to get it done. Since I already know I enjoy writing in chunks of 25 minute sprints using the Pomodoro method, I will use that as a my baseline.
The rest is just math. First, I need to think about how many words I can realistically write in a 25 minute sprint. I know from experience that I can do 1,000 words in 25 minutes if the stars align and the story is flowing.
To expect myself to always be at my best, though, is setting myself up for failure right from the start. I want to build positive momentum and make it easy to succeed, rather than push myself to the limit. Especially right now! Mental health is a huge part of writing success!
For this reason, I'll aim for an average of 500 words per sprint. Since I have a daily goal of 2,000 words, that means I'll need 4 writing sprints to hit my daily goal. Since each sprint is 25 minute, I have to set aside 2 hours of writing.
I've decided to set aside time from 10 am to 12 pm each day for writing sprints.
The final thing to think about is where I plan to write. Having this in place helps me feel committed to the project. I plan to write on my computer in my gaming space upstairs.
So, basically, my plan to win Camp this July is as follows:
My goal is to write 2,000 words per day.
I plan to write on 25 out of 31 days in July.
That brings my overall goal for the month to 50,000 words.
I have set aside time for 4 writing sprints each morning.
Each writing sprint will be 25 minutes in length.
I'll sprint from 10 am to 12 pm daily, Monday-Saturday.
In order to hit my 2,000 words per day goal, I'll aim for an average of 500 words per writing sprint.
I plan to write at my gaming computer upstairs.
What's Your Goal?
Are you planning to participate in Camp NaNoWrimo this July? If so, let me know your goal and what you'll be working on!
Don't forget to join us in the Writing Sprints group on Facebook for a little bit of extra support!
Also, if you want to see the storyboard I created and follow my progress of setting it up, watch today's video and come follow my stories on Facebook or Instagram! See you there!
By the way, you can sign up for NaNoWriMo's website and start your Camp project here.
Happy Writing!!!
Create A Writing Plan That Helps You Hit Your Deadlines!
Subscribe now to download this Writing Plan and Scheduling page. Set deadlines and track your progress as you write your novel!
If you're anything like me, you constantly feel behind and yet, you continue to procrastinate! Looking ahead, setting goal dates, and keeping track of your schedule as you write is one way to stay motivated and on target.