How To Plot Your Novel, Part Three: Elements of Act One
August 9, 2018 by Sarra Cannon
Hey, guys, and welcome back to my series on how to plot your novel. Today, we are going to be talking about the elements of Act One.
This is part 3 of my 8-part series on outlining a novel, and I hope you'll come back each week for the remaining parts. Near the bottom of this post, there is a link to the other parts of the series, as well as a place to sign up and receive a free plotting guide, which we'll be going through in detail throughout this series!
How To Plot Your Novel, Video Three: Act One
Download Your Free "Plot Your Novel" Workbook
In an effort to make this plotting video series even more awesome, I have put together a Plot Your Novel workbook that will guide you through every step of the outlining process. And what's even better is that it's completely free!!
*Note: If you are already signed up for my newsletter list, check your email! I sent you a direct link to download this free workbook in last week's email. If you can't find it, please email me and I'll get it to you!
Act Two, Part One
In my next video, we'll be looking at the elements of Act Two, Part One. Since Act Two is the longest, meatiest part of the novel, I find it easier to break it into two separate sections: Part One and Part Two.
Make sure you are subscribed to my newsletter and my YouTube channel to get notifications when new posts and videos in this series go up!
Questions?
Do you have any questions about the elements of Act One? Did this help clarify some of the plotting process for beginning your story and setting things up? Let me know in the comments below!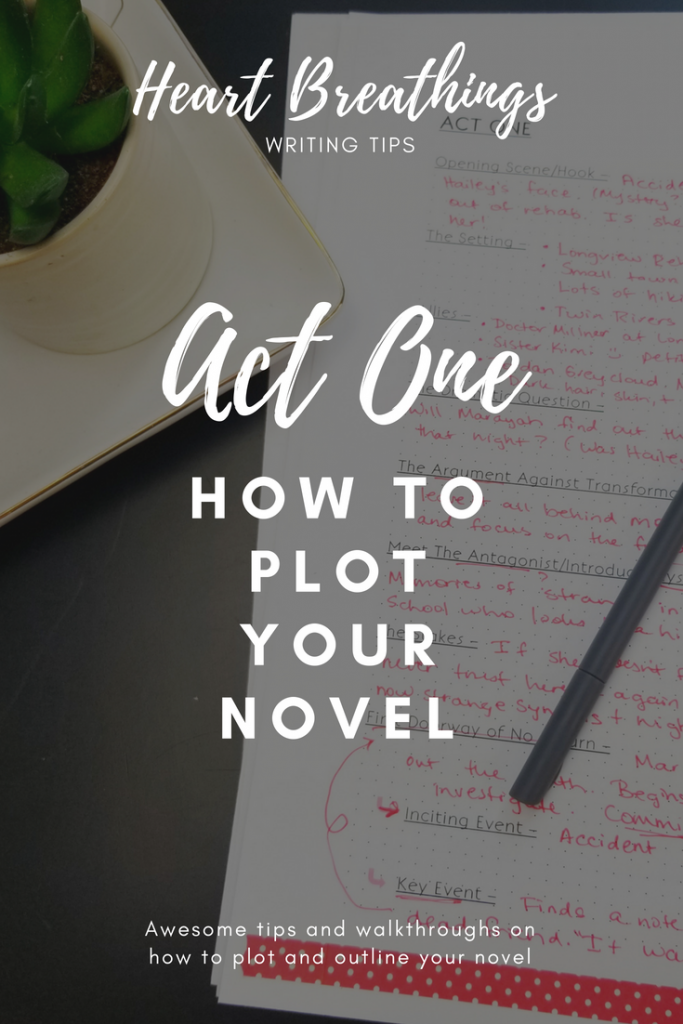 The How To Plot Your Novel Video Series
If you are like me and you need to have an idea of the outline and plot of your novel before you start writing, then you are in for a treat! Over the next few weeks, I am going to be sharing with you an 8-part video series on How To Plot Your Novel. Here is what we will cover:
What Happens If You Get Stuck?